10 days post IUI: "Fucking trigger!"
After blogging that, I couldn't help but laugh at how TROLL my body is. "OH YOU WANT A NEGATIVE HOME TEST? HAHAHAHAHAHA HERE'S A POSITIVE ONE! I THOUGHT YOU ALWAYS WANTED POSITIVE ONES!"
12 days post IUI: "Um, that line is not any fainter than the last one."
Around this time Facebook offered to post the most recent photos from my phone when I used the app, to hilarious effect. "No thanks Facebook, I don't want to tease my friends with probably-false-positives."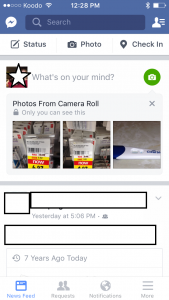 14 days post IUI: "Holy crap, I haven't even had any spotting and this test is definitely darker than the last one. Today, I am pregnant."

15 days post IUI: "No honey, still no period. No, I don't think I'm going to take a test tomorrow morning. Yes because I already did. No I won't tell you what it was; you said you didn't want to know. Ok, if you insist."
Knowing it was too early for morning sickness did not help the feeling I was going to stress-vomit.
17 days post IUI: Bloodtest. The clinic calls and gives a result so good that there's no need to retest it to look for the right pattern of increase — it's just a routine positive test, stop taking your supplements, see you in 3 weeks for an ultrasound to confirm it's a viable embryo.
At this point I'm the most pregnant I've ever been, and I'm having textbook pregnancy symptoms: no period, sore boobs, an excellent blood test, bright and happy home tests. I'm living the dream.
While I had the feeling that I should be more cautious as home tests had backfired before, it turned out that this read differently since I had no signs of imminent loss. I had trouble managing expectations, and kept thinking that if something did go wrong, any future positives would be even harder to celebrate.